We survived PAX East! Next week I will post about our adventures in Boston, but for now I'm going to give you an update on development for the past couple weeks.
Jungle Art & Mechanics
Christine finished up the first round of art assets for the Jungle levels. So, for me, that means importing art and building new levels. This area also has some unique platform mechanics and I've been coding and testing them.
Here's a quick video preview of some of the mechanics in action:
Twitch Streaming
Latley, I've been getting into streaming on twitch as I work on the game. I can't really focus and do coding while I stream but I find it works really well for building levels. So, if you'd like to watch me work and ramble about silly things, I recommend you follow our twitch channel. I try to stream at least once a week and the next time I'm on I'll be continuing to build this level:
PAX East Feedback
As I mentioned above I'll have a more detailed post about PAX soon. But, this week I've looked through all the notes and feedback I received during the event to make some small changes to the game. It's very useful as a designer to watch people play and see where they struggle and get stuck. One of the toughest things to get right in a game like TAW is the balance between "challenging" and "frustrating". Therefore, I'm taking a good amount of time to try to get it right.
As an example: I noticed many people struggled at the part where you control Wyhdah (the parrot) and you need to pick up objects with him. I thought it was intuitive  since all you had to do was overlap the object and begin flying to pick it up. But players were expecting a button press to perform the action. So I've switched it so that you can pick up and drop objects the exact same way you can with the main character – by pressing Up and Down. It actually plays a lot better now IMO. But, I'm going to give it another round of testing, which brings me to my next topic…
NYC Gamers Forum
Microsoft holds a playtest event once a month where NYC game developers and gamers can get together to play each other's games and share feedback. I'm going to be showing TAW this Tuesday (4/22) with about 20 other developers. So, if you're in the NYC area and want to come play some upcoming games you should stop by.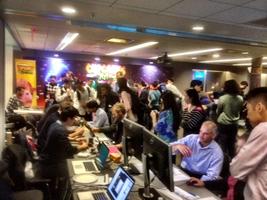 All the info about the event is here. Hope to see you there!